PIAS NEWS 12 OCTOBER 2022
CONTENTS

Dawoodi Bohra community -Excommunication
RTI Act issues
IMF Forecast
Geospatial technology
Mains value addition
Prelims
PIB
Sports
Polity
DAWOODI BOHRA COMMUNITY – EXCOMMUNICATION
A Constitution Bench led by Justice Sanjay Kishan Kaul is dealing with the question whether the practice of excommunication in the Dawoodi Bohra community could continue as a "protected practice" despite the coming into force of the Maharashtra Protection of People from Social Boycott (Prevention, Prohibition and Redressal) Act of 2016.
Excommunication is a religious censure used to deprive or suspend membership in a religious community.
The Court is deciding on the rights of the Bohra community to excommunicate dissidents from its community with respect to its fundamental rights under Article 25 and 26 of the Constitution of India.
The Dawoodi Bohras, around a million worldwide, are a sect within the Ismaili branch of Shia Islam. They are mainly from Gujarat and were traditionally shopkeepers and traders
2018 News -Female genital mutilation -FGM refers to the practice of complete or partial removal of female external genitalia, apparently in an attempt to keep their sexual desires under control.
RIGHT TO INFORMATION ACT
Context –Right to Information (RTI) Act, the transparency regime in the country remains a mirage with nearly 3.15 lakh complaints and appeals pending with 26 information commissions across India.
Issues
Pending cases- The highest number of pending cases was in Maharashtra at 99,722, followed by Uttar Pradesh at 44,482.It also lead to delayed time in disposal of cases.
Defunctional- information commissions—Jharkhand and Tripura—out of 29 across the country have been completely defunct for 29 months and 15 months .
No leader – Manipur, Telangana, West Bengal and Andhra Pradesh are without chiefs at the moment.
Gender inequality – Report by the Transparency International, one-fourth information commissioner posts are vacant and there are only 5% (only 8) women information commissioners in the country
Manpower – Several information commissions, including the Central Information Commission, are working at reduced capacity
Penalty – The commissions did not impose penalties in 95% of the cases where penalties were potentially imposable.
Way forward
Under RTI law, information commissions are the final appellate authority and are mandated to safeguard and facilitate people's right to information.
State governments must follow the Rajasthan government's initiative of Jan Soochna portal, which aims to make people, including the marginalised sections, a part of the governance process.
Centre and States must expedite filling up the vacancies in the State and Central Information Commissions.
Public authorities must be advised to provide for greater voluntary dissemination on government portals, which should ease their load.
Related news
Lieutenant-Governor directed Chief Secretary to take corrective steps after the Central Information Commissioner (CIC) wrote flagging the alleged failure of the Delhi government to effectively implement the Right to Information (RTI) Act .
Stated that Delhi government departments hold back genuine information, refuse to share details with appellants and provide misinformation.
It has also been pointed out that Public Information Officers (PIOs) are either not present or send their clerks to appear before the Commission.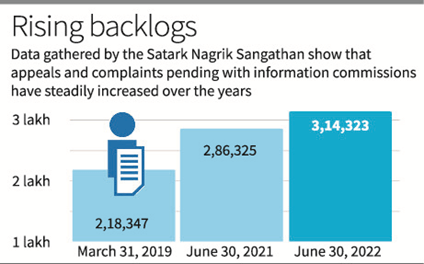 About the RTI Act, 2005:
It sets out the rules and procedures regarding citizens' right to information.
It replaced the former Freedom of Information Act, 2002.
This act was enacted in order to consolidate the fundamental right in the Indian constitution 'freedom of speech'. Since RTI is implicit in the Right to Freedom of Speech and Expression under Article 19 of the Indian Constitution, it is an implied fundamental right.
Key Provisions:
Section 4 of the RTI Act requires suo motu disclosure of information by each public authority.
Section 8 (1) mentions exemptions against furnishing information under RTI Act.
Section 8 (2) provides for disclosure of information exempted under Official Secrets Act, 1923 if larger public interest is served.
IMF FORECAST –IMF cuts India's growth forecast to 6.8%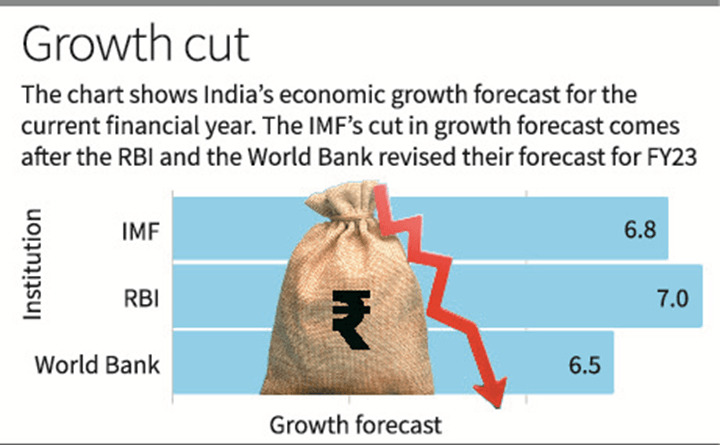 Global growth
Slow down from 6.0% in 2021 to 3.2% in 2022 and 2.7% in 2023.
This is reflective of a U.S. GDP contraction in first half of 2022, a Euro Area contraction in second half, extended COVID-19 outbreaks in China and a property sector crisis.

Impact of the Russia-Ukraine war,

Tightening monetary conditions globally,

The highest inflation in decades, and

Lingering effects of the pandemic, according to the International Monetary Fund.
GEOSPATIAL TECHNOLOGY
Context – Modi said "technology is a tool for inclusion and not exclusion", at the inaugural function of the second United Nations World Geospatial Information Congress (UNWGIC) in Hyderabad.
Geospatial technology has been driving inclusion and progress.
SWAMITVA (Survey of Villages and Mapping with Improvised Technology in Village Areas) scheme. We are using drones to map properties in villages.
For the first time in decades, people in rural areas have clear evidence of ownership.
India's steps at building infrastructure was on the backbone of geospatial technology.
The South Asia satellite was facilitating connection and communication in India's neighbourhood.
Geospatial technology had become one of the key enablers in socio-economic development by enhancing productivity, ensuring sustainable infrastructure planning, effective administration, and aiding the farm sector.
India's geospatial economy was expected to cross ₹63,100 crore by 2025 at a growth rate of 12.8%.
What is Geospatial technology
Geospatial technology uses toolslike GIS (Geographic Information System), GPS (Global Positioning System) and Remote Sensing for geographic mapping and analysis.
These tools capture spatial information about objects, events and phenomena (indexed to their geographical location on earth, geotag). The location data may be Static or Dynamic.
Static location data include position of a road, an earthquake event or malnutrition among children in a particular region while dynamic location data include data related to a moving vehicle or pedestrian, the spread of an infectious disease etc.
The technology may be used to create intelligent maps to help identify spatial patterns in large volumes of data.
The technology facilitates decision making based on the importance and priority of scarce resources.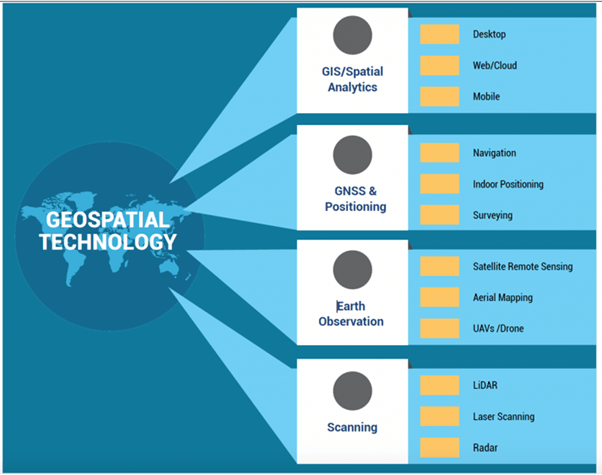 Significance
A Potential Sector: The sector has potential to grow to Rs 63,100 crore at 12.8% by the end of 2025 as per India Geospatial Artha Report 2021.
Employment: Private Companies like Amazon, Zomato etc. use this technology to smoothly conduct their delivery operations which supports livelihood generation.
Implementation of Schemes: The schemes like the Gati Shakti program can be smoothly implemented using geospatial technology.
Make in India: Focusing on the sector allows Indian companies to develop indigenous apps like an Indian version of google maps.
Management of Land records: Using the technology, the data related to a large number of landholdings can be appropriately tagged and digitised.

It will not only help better targeting but also reduce the quantum of land disputes in courts.

Crisis Management: Technology and logistics were perfectly supported through the use of geospatial technology during the Covid-19 vaccination drive.
Intelligent Maps and Models: Geospatial technology may be used to create intelligent maps and models that may be interactively queried to get the desired results in a STEM (Science Technology Engineering and Mathematics) application or may be used to advocate social investigations and policy-based research.
GS-II-Schemes, Governance
Expanding the mandate of the 'Beti Bachao Beti Padhao' scheme, the Central government announced the inclusion of skilling of girls in non-traditional livelihood (NTL) options .
A MoU was signed between the MoWCD, MSDE, Minority affairs. It emphasises convergence between Ministries and Departments to ensure adolescents complete their education, build skills, and enter the workforce in a diverse range of professions, including in STEM – (Science, Technology, Engineering, Mathematics) .
GS-I/IV -Social issues /Ethics
Two women were killed within months of each other in a case of "human sacrifice" in Kerala.
The Election Commission (EC) allotted the 'dhal talwar' (two swords and shield) symbol to the Shiv Sena faction led by Maharashtra Chief Minister Eknath Shinde.Thackeray faction the "flaming torch.

The Election Symbols (Reservation and Allotment) Order, 1968 empowers the EC to recognize political parties and allot symbols.

Golden shieldtail is a snake spotted in Kerala after a gap of 142 years (High yield for UPSC)
Mysuru-Bengaluru Tipu Express renamed as Wodeyar Express
Bihar: Home Minister Amit Shah unveils 15ft high statue of Jayaprakash Narayan in Sitab Diara
NASSCOM (National Association of Software and Services Companies) launches Responsible AI Hub and Resource Kit
Amid the rising tensions with Russia, the members of North Atlantic Treaty Organization's nuclear planning group are planning to conduct a nuclear exercise called "Steadfast Noon".
Dragonfly rotorcraft will be launched by the American space agency in 2027 to study Titan – the largest moon of Saturn
"Sanjeevani – Lifestyle Clinic" to provide advice on diet, exercise and behavioural counselling thereby rendering comprehensive preventive and curative care on lifestyle diseases to all serving & retired personnel and their dependents has been inaugurated at the Armed Forces Clinic, New Delhi
India hosted the 6th meeting of the India-Norway Joint Working Group on Higher Education.
Union Transport Minister Nitin Gadkari launches Toyota's first of its kind pilot project on Flexi-Fuel Strong Hybrid Electric Vehicles in India, which would run on 100% petrol as well as 20 to 100% blended ethanol and electric power.
FIFA U-17 Women World Cup inaugurated at Kalinga Stadium, Bhubaneswar; India lose 0-8 to US in their 1st match.
Arun Jaitley stadium in New delhi
Red Bull driver Max Verstappen wins 2022 Formula One Championship
World Carrom Championship held in Langkawi, Malaysia; India's Rashmi Kumari and Sandeep Dive win singles titles
India's S. Shrikrishna wins World 6-red snooker title in Kuala Lumpur.
Next summer Olympics in 2024 in Paris.
---