5 NOVEMBER 2022
Content  

India- Israel Relations
Net zero carbon emission
Satellite navigation system
NeVA (National e Vidhan Application)
IIPDF Scheme
The Indian Institute of Mass Communication (IIMC)  
GS 2
INTERNATIONAL RELATIONS
India- Israel Relations
Diplomatic Ties:

Though India officially recognised Israel in 1950, the two countries established full diplomatic ties only on 29th January 1992. As of December 2020, India was among 164 United Nations (UN) member states to have diplomatic ties with Israel.

Economic and Commercial Relations:

From USD 200 million in 1992, bilateral merchandise trade stood at USD 4.14 billion (excluding defence) during the period April 2020 – February 2021 with the balance of trade being in India's favour.

Trade in diamonds constitutes about 50% of bilateral trade..

India is Israel's third-largest trade partner in Asia and seventh largest globally.

Israeli companies have invested in India in energy, renewable energy, telecom, real estate, water technologies, and are focusing on setting up R&D centers or production units in India.

India is also in dialogue with Israel for concluding a Free Trade Agreement (FTA).

Defence:

India is the largest buyer of military equipment from Israel, which, in turn, is the second-largest defence supplier to India, after Russia.

The Indian armed forces have inducted a wide array of Israeli weapon systems over the years, which range from Phalcon AWACS (Airborne Warning And Control Systems) and Heron, Searcher-II and Harop drones to Barak anti-missile defence systems and Spyder quick-reaction anti-aircraft missile systems.

The acquisitions also include a host of Israeli missiles and precision-guided munitions, from Python and Derby air-to-air missiles to Crystal Maze and Spice-2000 bombs.

At the 15th Joint Working Group (JWG 2021) meeting on Bilateral Defence Cooperation, countries agreed to form a Task Force to formulate a comprehensive Ten-Year Roadmap to identify new areas of cooperation.

Cooperation in Agriculture:

In May 2021, "a three-year work program agreement" for development in agriculture cooperation, was signed.

The programme aims to grow existing Centres of Excellence, establish new centers, increase CoE's value chain, bring the Centres of Excellence into the self-sufficient mode, and encourage private sector companies and collaboration.

Science & Technology:

Recently, experts from India and Israel deliberated on widening the scope of India-Israel Industrial R&D and Technological Innovation Fund (I4F) at its 8th Governing Body meeting.

They approved 3 joint R&D projects worth 5.5 million USD and suggested measures to create a broader India-Israel collaborative ecosystem.

I4F is a cooperation between the two countries to promote, facilitate and support joint industrial R&D projects between companies from India and Israel to address the challenges in the agreed 'Focus Sectors'.

Others:

Israel is also joining the India-led International Solar Alliance (ISA), which aligns very well with the objectives of both countries to scale up their cooperation in renewable energy and partner in clean energy.
Way Forward
The ties between the two nations have flourished since 1992, primarily due to common strategic interests and security threats.
Indians are sympathetic towards Israel and the government is balancing and recalibrating its West Asia policy on the premise of its own national interest.
India and Israel need to overcome the vulnerability of their religious extremist neighbours and work productively on global issues like climate change, water scarcity, population explosion and food scarcity.
A more aggressive and proactive Middle Eastern policy is the need of the hour for India to reap the maximum benefit of the geopolitical realignments gradually being brought in by the Abraham Accords.
GS 3
ENVIRONMENT
Net zero carbon emission
Context- Mathura-Vrindavan, one of India's largest pilgrimage centres, aims to become a "net zero carbon emission" tourist destination by 2041
Put simply, the term net zero applies to a situation where global greenhouse gas emissions from human activity are in balance with emissions reductions. At net zero, carbon dioxide emissions are still generated, but an equal amount of carbon dioxide is removed from the atmosphere as is released into it, resulting in zero increase in net emissions.
SPACE SECTOR
Satellite navigation system
Context- China's home-grown Beidou satellite system eyes global footprint
Global Positioning System or GPS is a system formed from a constellation of satellites orbiting around the earth. It sends the details of the accurate position, velocity, and time. GPS has diverse applications ranging from military and weather conditions to vehicle location farms and many other areas. The navigation and positioning system was first formed by the U.S. for their military, which was further extended for civil use. Although there are other navigation systems formed by other countries, four of them are global while two of them are regional.
1. GLONASS (Russia): Global Navigation Satellite System or GLONASS is a space-based global satellite navigation system (GNSS), which provides real-time position and velocity determination for civilian and military users. It is operated by the Russian Federation and is the second alternative navigational system in operation with global coverage and comparable precision. It was officially declared operational in 1993 with 12 satellites and in December 1995, the constellation was finally set with 24 operational satellites in orbit. At present, GLONASS has a total of 26 satellites which provides an accuracy of 2.8 to 7.38 meters. The satellites are located at an altitude of 19, 130 km with a 64.8 degrees inclination and a period of 11 hours 15 minutes.
2. Galileo (EU): Galileo is a European owned global navigation satellite system, which provides high-precision navigation and positioning services to civilians and commercial users. It is named after the Italian astronomer Galileo Galili and is interoperable with GPS and GLONASS. The system started its initial services on 15th December 2016 with 22 usable satellites in orbit. It will consist of 30 satellites in Medium Earth Orbit (MEO) once the Galileo constellation reaches its Full Operational Capability (FOC) by 2020. The complete 30-satellites Galileo system will have 24 operational satellites and 6 active spares, positions in three planes at an orbital height of 23, 222 km at an inclination of 56 degrees to the equator. Galileo is intended to provide an accuracy of 1metre for public usage and better positioning services than other positioning systems.
3. BeiDou (China): BeiDou is a Chinese satellite navigation system, which consists of two separate satellite constellations, BeiDou-1 and BeiDou-2. The first generation system is known as BeiDou-1, consists of a constellation of 4 satellites (three working satellites and one backup satellite). It became operational in 2000 and has offered limited coverage and navigation services for the users of China and its neighboring regions. It became decommissioned at the end of 2012. BeiDou-2 is a second-generation system, which will provide a constellation of 35 satellites in which 27 satellites will be located in Medium Earth orbits, 5 in geostationary orbits, and 3 in inclined GEO orbits. Currently, it has a total of 22 operational satellites which are located at an altitude of 21, 150 km.
4. QZSS (Japan): The Quasi-Zenith Satellite System is a regional satellite navigation system developed by the Japanese government in 2002. It has a three-regional satellite regional time transfer system and a satellite-based augmentation system. The primary purpose of this system is to provide highly accurate and effective positioning services in the Asia Oceanic region. The QZSS satellites will have 7 satellites in the future, out of which 4 operational satellites are already present in orbit. It is intended to provide a precision of 0.01 to 1 meter.
5. IRNSS – NAVIC (India): The Indian Regional Navigation Satellite System (IRNSS) is officially called NAVIC which is an acronym for Navigation with Indian Constellation. The regional Geo-positioning system has been designed in India by ISRO to provide accurate positioning in India and around the Indian mainland and a region extending 1500 km around it. The satellite system was first announced in 2007 but was fully functional by 2013.
A need for an indigenous satellite navigation system was felt earlier, but the Kargil experience, when the US denied providing GPS information to India, made the nation realize its importance. Currently, it is a constellation of 7 satellites, 3 in geostationary orbit, and 4 in geosynchronous orbit. In the future, the constellation size is expected to increase from 7 to 11.
According to the ISRO, the IRNSS was developed for terrestrial, aerial and marine navigation, disaster management, vehicle tracking and fleet management, and integration with mobile phones. It would provide the Standard Positioning Service (SPS) to all users having an accuracy of 1 m and Restricted Service (RS), which is an encrypted service for only authorized users with an accuracy of 0.1 m.
SCIENCE AND TECHNOLOGY
NeVA (National e Vidhan Application)
NeVA is a work-flow system deployed on NIC Cloud, MeghRaj which helps the Chair of the House to conduct the proceedings of the House smoothly, Hon'ble Members to carry out their duties in the House efficiently and to conduct Legislative Business of the House in a Paperless manner.
The aim of the project is to bring all the legislatures of the country together, in one platform thereby creating a massive data depository without having the complexity of multiple applications.
NeVA is a device neutral and member centric application created to equip them to handle diverse House Business smartly by putting entire information regarding member contact details, rules of procedure, list of business, notices, bulletins, bills, starred/unstarred questions and answers, papers laid, committee reports etc. in their hand held devices/ tablets and equip all Legislatures/ Departments to handle it efficiently. NeVA will completely eliminate the process of sending out a notice/request for collection of data.
INFRASTRUCTURE SECTOR
Scheme for Financial Support for Project Development Expenses of PPP Projects – India Infrastructure Project Development Fund Scheme (IIPDF Scheme)
Central Sector Scheme,
the India Infrastructure Project Development Fund Scheme (IIPDF Scheme) will aid development of quality PPP projects by providing necessary funding support to the project sponsoring authorities, both in the Central and State Governments, for creating a shelf of bankable viable PPP projects for achieving the vision of modern infrastructure for the country.
Under Ministry Of Finance
EDUCATION
The Indian Institute of Mass Communication (IIMC)
Context-Smt. Droupadi Murmu, the President of India on her visit to Mizoram inaugurated the permanent North-East Campus of Indian Institute of Mass Communication North East at Aizawl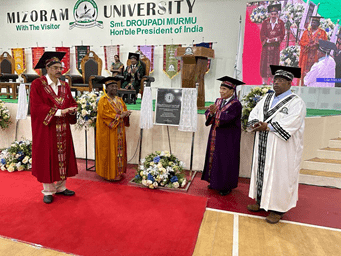 The Indian Institute of Mass Communication (IIMC), New Delhi was inaugurated in 1965 to cater to the training needs of media professionals in the country and other developing countries. It has ever since functioned as a training institute for the Indian Information Service also.
The Indian Institute of Mass Communication (IIMC), an autonomous body under the Ministry of Information and Broadcasting, Government of India, is a premiere Institute of Journalism in the country. With the main Campus in New Delhi, IIMC has five regional campuses at Dhenkanal in Odisha, Aizawl in Mizoram, Jammu in J&K, Kottayam in Kerala and Amravati in Maharashtra.
The Campus also enables its students to secure employments in reputed media organisations across the country through campus placements and their own efforts. Year after year, students are establishing their own niche in well-known media organizations like Doordarshan, All India Radio, PTI and other leading private media organisations.
Under Ministry of Information & Broadcasting