5 January 2023
Content  
Green Hydrogen Mission
Brown Vs Grey Vs Blue Vs Green Hydrogen
Silent Valley bird species  
Green Hydrogen Mission
Context-Centre clears ₹19,744 cr. Green Hydrogen Mission
The Ministry of New and Renewable Energy (MNRE) will formulate the scheme guidelines for implementation.
The mission seeks to promote the development of green hydrogen production capacity of at least 5 MMT (Million Metric Tonnes) per annum with an associated renewable energy capacity addition of about 125 GW in the country by 2030.
Benefits of the Mission
Creation of export opportunities for Green Hydrogen and its derivatives;
Decarbonisation of industrial, mobility and energy sectors;
Reduction in dependence on imported fossil fuels and feedstock;
Development of indigenous manufacturing capabilities;
Creation of employment opportunities;
Development of cutting-edge technologies.
The National Hydrogen Mission was launched on August 15, 2021, with a view to cutting down carbon emissions and increasing the use of renewable sources of energy.

---
Brown Vs Grey Vs Blue Vs Green Hydrogen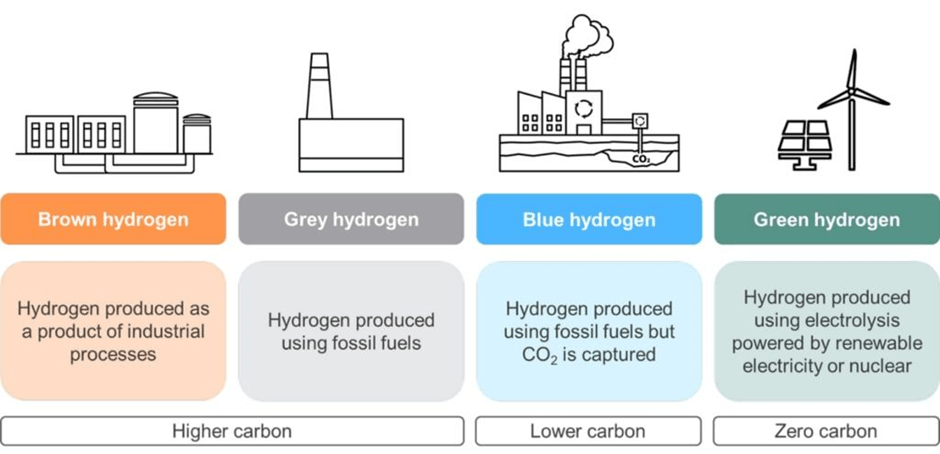 Context: Union Minister for Chemicals and Fertilizers chaired a high-level meeting to make Atmanirbhar Bharat in Urea and Diammonium Phosphate Production by using 'Green Hydogen'.
In the Independence Day speech on 15.08.2021, the Prime Minister announced the launch of National Hydrogen Mission and stated the goal to make India a global hub for Green Hydrogen production and export.
The Mission proposes a framework for inter alia creating demand for Green Hydrogen in sectors such as petroleum refining and fertilizer production; support for indigenous manufacturing of critical technologies; Research & Development activities etc.
Analysis
Hydrogen is an odourless, invisible gas. All hydrogen burns the same, but the different methods of producing it have produced colourful nicknames.
Brown Hydrogen Using water and heat, coal can undergo "gasification". In this process, the chemicals within coal react to make what was known as "syngas." Syngas contains a mixture of carbon dioxide (CO₂), carbon monoxide (CO), hydrogen, methane and ethylene, along with small quantities of other gases. The first two of these gases have no use in power generation. This makes the process very polluting, compared to other methods.
However, chemical companies can distil hydrogen from this mixture relatively simply. As waste-to-energy incinerators become more common, they increasingly use similar processes to generate brown hydrogen. A similar process can produce syngas from biomass and petrochemicals.
Grey Hydrogen (drawn from imported natural gas)
Most hydrogen currently comes from natural gas, but this process also creates a lot of carbon waste. The majority of chemicals in natural gas contain large amounts of hydrocarbons – hydrogen chemically bonded with carbon. Catalysts can break these bonds, but the excess carbon then creates CO₂.
Blue Hydrogen – more technology, less pollution
Blue hydrogen relies on the same process as grey hydrogen, along with carbon capture and storage (CCS). This eliminates the emissions of grey hydrogen, improving the hydrogen's environmental impact. Growth of blue hydrogen has remained slow, as it waits on the development of more large-scale CCS plants.
Why is "Green Hydrogen" the ultimate goal?
Green hydrogen cuts out polluting chemicals entirely. It requires water and electricity, which create hydrogen using electrolysis.
Electrolysis is a chemical reaction where an electric current is passed through metal conductors, known as electrodes, in water. This separates water into its component elements, hydrogen and oxygen. Using electricity originally generated by renewable sources makes this hydrogen carbon-free and consequently "green."
Clean hydrogen still costs too much to enable it to be widely deployed. At the moment, grey hydrogen is cheaper than the blue and green hydrogen. The main driver of its price is the price of natural gas, which varies around the world. The price of blue hydrogen is also mainly influenced by natural gas prices. But its second-most important driver is the cost of capturing and reusing or storing the carbon emissions. Total global electrolysis capacity is limited and costly at the moment and hence the green hydrogen.
---
Silent Valley bird species' number goes up to 175
Birds such as Crimson backed sunbird, Yellow browed bulbul, Black bulbul, Indian white-eye and Indian swiftlet were found in abundance in Silent Valley along with Brown wood owl, Banded bay cuckoo, Malabar woodshrike, White throated kingfisher, Indian night jar, Jungle nightjar, and Large cuckooshrike.
Among the birds they sighted were Nilgiri laughingthrush, Nilgiri flowerpecker, Brown cheeked fulvetta, Black and-orange flycatcher, Grey-headed canaryfly catcher, Greenish warbler, Common chiffchaff, Tytler's leaf warbler, Shaheen-falcon, Nilgiri woodpigeon, and Malabar whistling thrush.

Silent Valley National Park:
• Location: Palakkad district in Nilgiri Mountains of Kerala.
• It is at the heart of Nilgiri Biosphere Reserve and consists of areas of South Western Ghats rain forests and tropical wet evergreen jungle. River Kunthi passes through it.
• Flora: Humid wet Evergreen Rain Forests. The major plants of the park are Teak, Amla, Semal, Rosewood along with bamboo.
• Fauna: Silent Valley Park is known for many highly endangered species such as lion-tailed macaque, tiger, gaur, leopard, wild boar, panther, Indian Civet and Sambhar.