15 November 2022
Content  
Eklavya Model Residential Schools
Hon.Prime Minister's address for Janjatiya Gaurav Diwas
Hon.Prime Minister's address in G20
COP 27  
"In our LiFEtime" Campaign  
Tribal
Eklavya Model Residential Schools
Every block with more than 50% Schedule Tribe (ST) population and at least 20,000 tribal persons, will have an Eklavya Model Residential School by the year 2022.
These are being set up by grants provided under Article 275(1) of the Constitution.
There will be an autonomous society under the ministry of tribal affairs — similar to Navodaya Vidyalaya Samiti — to run the EMRSs.
The Tribal Affairs Ministry insists on maintaining the new criteria. Ministry officials said that as of November, a total of 688 schools have been sanctioned, of which 392 are functional. Of the 688, 230 have completed construction and 234 are under construction, with 32 schools still stuck due to land acquisition issues.
Hon.Prime Minister's address for Janjatiya Gaurav Diwas
The Prime MInister recalled the contribution of the tribal community in the freedom struggle and remembered key tribal movements and wars for Independence. He remembered Damin Sangram led by Tilak Manjhi, Larka movement under Budhu Bhagat, Sidhu-Kanhu Kranti, Tana Bhagat Movement, Vegda Bhil Movement, Naikda Movement, Sant Joriya Parmeshwar and Roop Singh Nayak, Limdi Dahod battle, Govind Guru ji of Mangarh and Rampa movement under Alluri Sitaram Raju.
(Make a note of these tribal movements. These are important for Prelim)
Hon.Prime Minister's address in G20
Key Topics
World Peace
We have to find a way to return to the path of ceasefire and diplomacy in Ukraine. The need of the hour is to show concrete and collective resolve to ensure peace, harmony and security in the world.
Agriculture
The current shortage of fertilizers in terms of food security is a huge crisis. Today's fertilizer shortage is tomorrow's food crisis, for which the world will not have a solution.
Millets can solve global malnutrition and hunger. We all must celebrate the International Year of Millets with great enthusiasm next year.
Energy Security
We must not promote any restrictions on the supply of energy and stability in the energy market should be ensured. India is committed to clean energy and environment.
India's Commitments
By 2030, half of our electricity will be generated from renewable sources. Time-bound and affordable finance and sustainable supply of technology to developing countries is essential for inclusive energy transition.
COP 27
"The LTLEDS (Long Term ­Low Emission Development Strategy)
While 195 member countries, signatories to the UN climate agreements, were obliged to submit the long-term document by 2022, only 57 — India is the latest addition — have done so.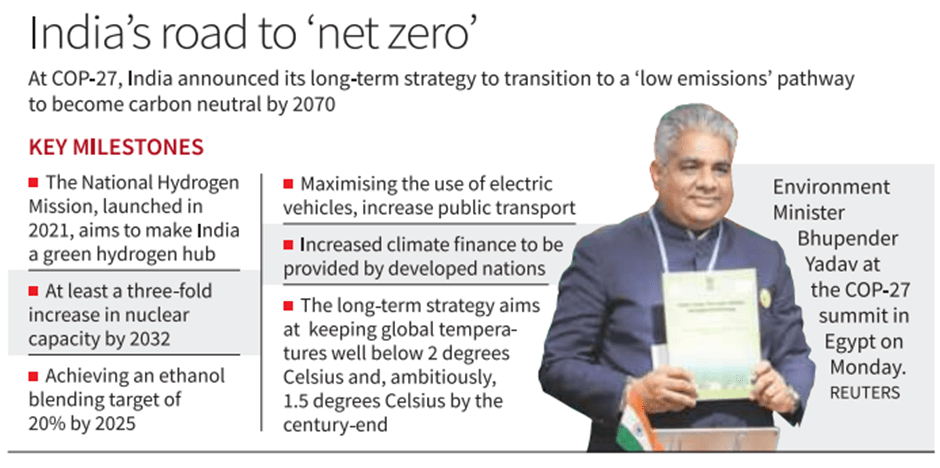 LTLEDS (Long Term ­Low Emission Development Strategy)
National Hydrogen Mission
Threefold increase in Nuclear Capacity by 2032
20% Ethanol blending by 2025
Electric vehicles
Increase Climate Finance
---
"In our LiFEtime" Campaign
"In our LiFEtime" Campaign launched by India at COP 27, Sharm El-Sheikh
National Museum of Natural History (NMNH), under the Ministry of Environment Forest and Climate Change and United Nations Development Programme (UNDP), jointly launched "In Our LiFEtime" campaign to encourage youth between the ages of 18 to 23 years to become message bearers of sustainable lifestyles. This campaign envisions to recognize youth from around the world taking climate action initiatives that resonate with the concept of LiFE.
Developing an understanding of the LiFE among the younger generations is essential for fostering responsible consumption patterns and influencing the lifestyle choices of the generations to come to make them Pro-Planet-People.
During the event the MoEFCC – UNDP Compendium 'Prayaas Se Prabhaav Tak – From Mindless Consumption to Mindful Utilization' was launched.
Concept of LiFE
Responsible Consumption by taking only as much as is needed, using products to the end of their lives, and repurposing or recycling whatever is left over.
Circular Economy to improve resource efficiency, minimize waste and emissions to reduce the carbon footprint and improve ecological handprint.
Living in Harmony with Nature by practising the philosophy of 'Vasudhaiv Kutumbkam' (the World in One Family) and living a life with compassion for all living beings.
Sustainable Resource Management through mindful and deliberate utilisation of the available resources and to reduce overconsumption and promote equitable access to resources.
Coexistence and Cooperation among countries and communities through the promotion of science and innovation, knowledge exchange, dissemination of best practices, and conservation of traditional knowledge systems.
"In our daily life choices, let us pick the most sustainable options. Our planet is one, but our efforts have to be many – One Earth, many efforts. India stands ready to support any effort for a better environment and to further global wellness"