PIAS News 13 October 2022
CONTENTS

Chola architecture
Inflation
World sloth bear day
Tamilnadu Wildlife conservation
Mains value addition
Prelims
PIB
Sports
GS-I-ART &CULTURE
CHOLA- Art & Architecture

Architecture:
Chola art saw culmination of Dravida temple art
Cholas followed the architectural style of the Pallavas deducting essential features of Pallavas such as lion motifs, for tigers, adding greater refinement etc. and were mostly involved in the construction of temples (Dravidian Style)
They used stone instead of bricks due to its greater durability. Neatly detailed frescos including birds, dancing figurines and other pictorial stories from Puranas. Some temples have potraits of the Kings and queens themselves.
The temples had a Garbhaghriha(Deity room); Vimana(Brihadeshwara Temple); Shikhara(Stone weighing 90 tonne); Mandap. Metal Art(Nataraja at Chidamabaram Temple) Lofty Gates
Dvarpalas at the entrance of the mandap became a unique feature
Temples covered with exquisite well composed sculptures and frescoes
Ganas are the most memorable figures were built during the chola period
Yazhi a recurring pattern of the sculpted mythical animals were also a unique features
Presence of water tank is the unique feature of chola architecture.
Brihadeswara temple:

The Grand Temple of Tanjavur, known as Rajarajisvaram and Brihadishvarar Temple, stands as an outstanding example of Chola architecture, painting, sculpture and iconography.
Built by RajaRaja Chola
It has shadowless vimana
Sanctum with a vimana, 190 feet is capped with a stone weighing 80 tons
The figures of Lakshmi, Vishnu, Ardhanarisvara and Bikshadana, a mendicant form of Siva, on the outer walls of the sanctum are some unique features.
The fresco paintings and the miniature sculptures of the scenes from puranas and epics in the temple walls reveal the religious ideology of the Chola rulers.
Gangaikonda Cholapuram: In commemoration of his victory in North India, Rajendra I built GangaikondChozhapuram on the model of Brihadisvarar temple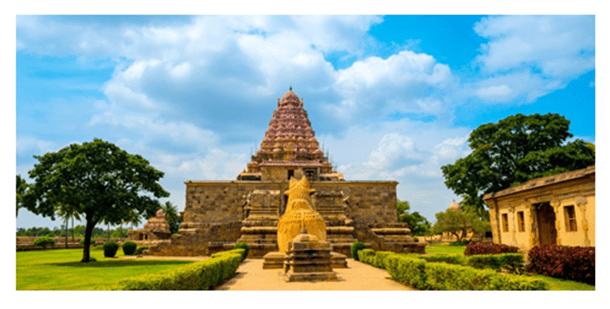 Darasuram Temple : Darasuram Temple,built by Rajaraja II(1146–1172), is another testimony of Chola architecture.
---
Chola bronze sculptures: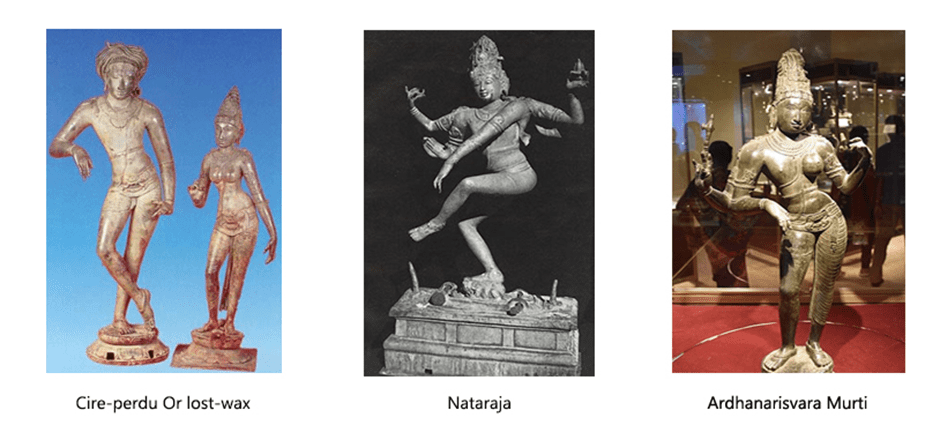 The cire-perdu or 'lost-wax' process for casting was learnt as long ago as the Indus Valley Culture.
Along with it was discovered the process of making alloy of metals by mixing copper, zinc and tin which is called bronze.
The bronze casting technique and making of bronze images of traditional icons reached a high stage of development in South India during the medieval period.
Chola bronzes are the most sought-after collectors' items by art lovers all over the world.
The well-known dancing figure of Shiva as Nataraja was evolved and fully developed during the Chola Period and since then many variations of this complex bronze image have been modelled.
A wide range of Shiva iconography was evolved in the Thanjavur (Tanjore) region of Tamil Nadu. The ninth century kalyanasundara murti is highly remarkable for the manner in which Panigrahana (ceremony of marriage) is represented by two separate statuettes.
Shiva with his extended right hand accepts Parvati's (the bride's) right hand, who is depicted with a bashful expression and taking a step forward.
The union of Shiva and Parvati is very ingeniously represented in the Ardhanarisvara Murti (in fig) in a single image.
Beautiful independent figurines of Parvati have also been modelled, standing in graceful tribhanga posture.
GS- III – Economy
NEWS – INFLATION -Accelerates to 7.41% ,highest since April.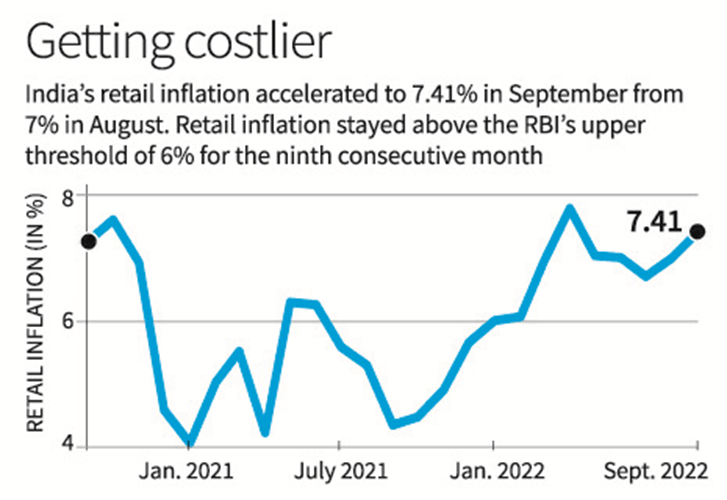 NSO DATA- September
Retail Inflation – 7.41%
Food inflation – 8.41%
Price rise – 7.79%
RBI can increase interest rate
What is Inflation
Inflation refers to the rise in the prices of most goods and services of daily or common use, such as food, clothing, housing, recreation, transport, consumer staples, etc. Inflation measures the average price change in a basket of commodities and services over time.
Inflation is indicative of the decrease in the purchasing power of a unit of a country's currency. This is measured in percentage.
In India, inflation is primarily measured by two main indices — WPI (Wholesale Price Index) and CPI (Consumer Price Index).
Inflation Targeting
Inflation is measured by a central government authority, which is in charge of adopting measures to ensure the smooth running of the economy. In India, the Ministry of Statistics and Programme Implementation measures inflation.
RBI through its Monitory Policy Committee Controls Inflation with its tools to control Money supply in the market.
The Central Government has notified 4 per cent Consumer Price Index (CPI) inflation as the target for the period from August 5, 2016, to March 31, 2021, with the upper tolerance limit of 6 per cent and the lower tolerance limit of 2 per cent.
GS-III- Environment-Wildlife Conservation
WORLD SLOTH BEAR DAY
Context –The first World Sloth Bear Day was observed on September 12 to generate awareness and strengthen conservation efforts
IUCN – Vulnerable
Wildlife Protection Act of India, 1972 – Schedule I
Endemic to the Indian sub-continent and 90% of the species population is found in India. Small population in Nepal & Srilanka.
Sloth bears were omnivorous and survives on termites, ants and fruits.
Dry and moist forests and in some tall grasslands, where boulders, scattered shrubs and trees provide shelter.
Everywhere but more in Western Ghats, Madhya Pradesh, Uttar Pradesh, Chhattisgarh, West Bengal and north-east India.
A proposal for observing World Sloth Bear Day was mooted by Wildlife SOS India and the IUCN-Species Survival Commission sloth bear expert team accepted the proposal .
The species has the same level of protection as tigers, rhinos and elephants.
Rise of incidents of human sloth bear conflict in States like Gujarat, Rajasthan and Maharashtra among other states.
Wildlife SOS  said the organisation rescued and rehabilitated over hundreds of "performing dancing bears, thereby resolving a 400-year-old barbaric tradition (of dancing bears) while also providing alternative livelihoods to the nomadic Kalandar community members".
Kalandar community – Muslim community in Rajasthan .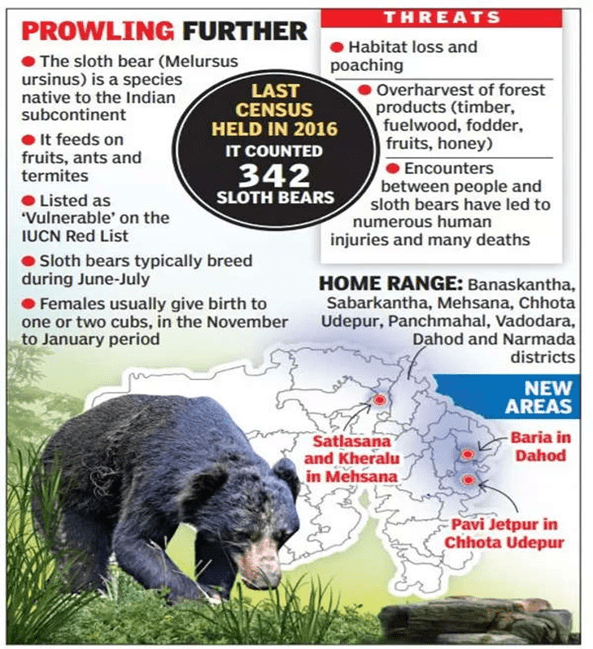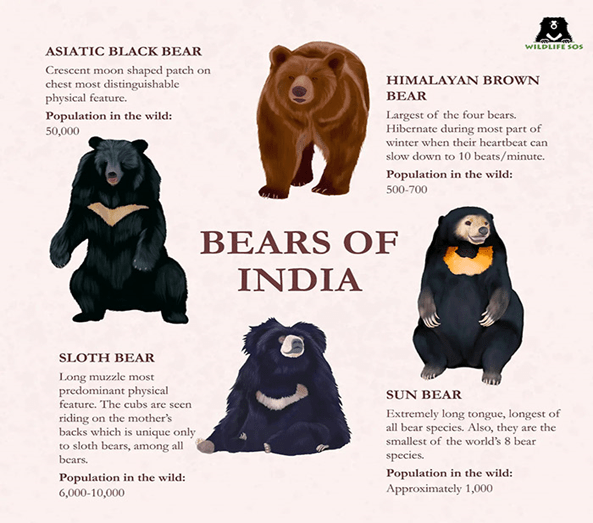 TAMILNADU- WILDLIFE CONSERVATION
Tamil Nadu government notified the Kaduvur slender loris sanctuary in Karur and Dindigul districts.
Slender lorises, which are small nocturnal mammals, are arboreal as they spend most of their life on trees.
The species acts as a biological predator of pests in agricultural crops and benefits farmers.
IUCN – Endangered
Other Initiatives
India's first Dugong Conservation Reserve in the Palk Bay,
Kazhuveli bird sanctuary in Villupuram,
Nanjarayan Tank birds sanctuary in Tiruppur and
the State's fifth elephant reserve at Agasthyamalai in Tirunelveli.
13 wetlands were declared as Ramsar sites
MAINS VALUE ADDITION
GS-II -Polity
The Supreme Court on Wednesday ordered States and their police forces to stop prosecuting free speech on social media under Section 66A of the Information Technology Act which was declared unconstitutional by the court in a judgment seven years ago
GS-III- Environment
The National Green Tribunal (NGT) has imposed an environmental compensation of ₹900 crore on the Delhi government for undisposed waste at the three landfills in the city which is to the extent of 3 crore metric tonnes.
The tribunal said it's a "serious" violation of the rights of citizens and "failure" of public trust doctrine to protect the environment and public health by the authorities concerned,
GS-III- Environment-Climate change
To reduce carbon emissions- Railways decided to replace its fleet of cars to electric vehicles in phases. Army prepares road map for induction of electric vehicles.
PRELIMS
The Hindi versions of first-year MBBS textbooks will be launched in Bhopal . Madhya Pradesh will become first State to provide medical education in Hindi.
The Idol Wing-CID traced the stolen antique idols of Yoganarasimha and Ganesha, belonging to Tiruvarur district, to the Nelson-Atkins Museum of Art, U.S.A.
President Droupadi Murmu inaugurates Tripura State Judicial Academy in Agartala
A MiG-29K fighter of the Indian Navy crashed

From Russia (1988)

All weather carrier based multirole fighter (4 generation)

Multifunction radar, multiple cockpit displays.

HOTAS controls – Hands on throttle and stick .

Integrated with air-air missile, antiship, anti-radar missiles.
PIB
Prime Minister's Development Initiative for North East Region (PM-DevINE) for the remaining four years of the 15th Finance Commission from 2022-23 to 2025-26.  
Released Commemorative Postage Stamp on the occasion of Golden Jubilee of PIN Code, in Gandhinagar, Gujarat
INS Tarkash reached Port Gqeberha (also known as Port Elizabeth), South Africa to participate in the seventh edition of IBSAMAR, a joint multinational maritime exercise among Indian, Brazilian and South African Navies 
Sports
National Games end at Surat in Gujarat; Services tops medals tally with 61 golds; Harshika Ramchandran (Karnataka): best female player, Sajan Prakash (Kerala): best male player
Places in news
Venezuela:- Las Tejerias city
---