10 November 2022
Content  

Chief Justice of India (CJI)
Role Of Media
Scheduled castes,
Scheduled Tribes
Shahtoosh
Main Enrichment  
GS 2
Chief Justice of India (CJI)
Context-D.Y. Chandrachud takes charge as the 50th Chief Justice of India
Qualifications:
The CJI should be a citizen of India.

He/she should:

Have been for at least five years a Judge of a High Court or of two or more such Courts in succession or

Have been for at least ten years an advocate of a High Court or of two or more such Courts in succession, or

Be, in the opinion of the President, a distinguished jurist.

Removal:

He/she can be removed by an order of the President only after an address by Parliament has been presented to President.

This should be supported by a special majority of each House of Parliament (i.e., by a majority of the total membership of that House and by a majority of not less than two-thirds of the members of that House present and voting).

Grounds of Removal: Proved misbehaviour or Incapacity (Article 124(4)).
The Landmark Verdicts by D.Y. Chandrachud
-Ayodhya Title Suit
CJI DY Chandrachud was part of the five-judge Constitution Bench of the Supreme Court that, in a historic ruling on November 9, 2019, unanimously ruled that the disputed site at Ayodhya will go to Hindus and Muslims will get alternative land.
The five-judge Constitution Bench headed by then Chief Justice of India Ranjan Gogoi, comptising Justices DY Chandrachud, S Abdul Nazeer, Ashok Bhushan and SA Bobde, awarded the title to the deity, Shri Ram Virajman and directed the State to grant the Sunni Waqf Board an alternate site at Ayodhya for the construction of a mosque.
-Right to Privacy
In August 2017, a nine-judge Bench of the Supreme Court unanimously affirmed that the Constitution of India guarantees a fundamental right to privacy. Justice Chandrachud authored the majority decision in Justice K.S. Puttaswamy v Union of India speaking for himself and Khehar J, RK Agarwal J and Abdul Nazeer J.
He recognised the right to privacy and dignity as an intrinsic part of the right to life.
-Abortion Rights
The Supreme Court in September this year ruled that both married & unmarried women have the right to safe and legal abortion. A bench headed by Justice DY Chandrachud, and also comprising Justices AS Bopana and BV Nagrathna, held that every woman irrespective of its marital status are entitled to safe and legal abortion.
"The distinction between married and unmarried woman for the purposes of the MTP Act is artificial and constitutionally unsustainable and it perpetuates the stereotype that only married women indulges in sexual activities," the bench HAD said.
SC Judge Who Overturned Father's Judgment
Justice D Y Chandrachud, during his tenure as a judge of the Supreme Court, overturned two judgments of his own father YV Chandrachud who served as 16th Chief Justice of India.
Justice Chandrachud overturned the judgements in Adultery and Right to Privacy
In the Adultery law, senior Chandrachud had upheld the validity of Section 497. Justice YV Chandrachud wrote the Sowmithri Vishnu judgment. Thirty-three years later, his son Justice DY Chandrachud while hearing the case had taken a dig saying, "We must make our judgments relevant to the present day".
"The law in adultery is a codified rule of patriarchy," Justice DY Chandrachud wrote in his judgment striking down the law.
In another such judgment upholding the right to privacy as a fundamental right, Justice DY Chandrachud who wrote the lead verdict in the Supreme Court's landmark judgment overturned two previous verdicts on the hotly debated subject and overruled another judgment often described as the darkest hour in Indian judiciary.
In doing so he set aside the opinion of his father, Justice YV Chandrachud, in the controversial ADM Jabalpur case. The senior Chandrachud was among four out of five judges who in 1976 upheld a presidential order to impose Emergency in the country. The Congress was in power then.
Context-Centre devises new guidelines for TV channels; broadcast of socially relevant topics compulsory
"Airwaves/ frequencies are public property and need to be used in the best interest of society"
All stations holding permission — except for foreign channels and where it may not be feasible — will have to broadcast content on issues of national importance and social relevance for at least 30 minutes every day
The eight listed themes include education and spread of literacy;
Agriculture and rural development;
Health and family welfare;
Science and technology;
Welfare of women;
Welfare of the weaker sections of society;
Protection of environment and of
Protection of cultural heritage;
National integration.
Scheduled castes, Scheduled Tribes
Context-SC/ST students have been impacted disproportionately by the pandemic as their learning outcomes have declined the most
The Unified District Informa­tion System for Education (UDISE+) survey for 2021-2022
Chart 1 shows the promotion rate of secondary school students across communities. Notably, the promotion rate among Scheduled Caste (SC) and Scheduled Tribe (ST) students increased sharply after the outbreak. The promotion rate among Other Backward Classes (OBC) students continued to rise unabated
Chart 2 shows the repetition rate of secondary school students across communities. The repeti­tion rates too drastically came down in the pandemic years with some 1% students repeating their class across all communities. Notably, the gap in the repetition rate between SC/ST students and gen­eral category students declined greatly after the outbreak
Chart 3 shows the difference bet­ ween the mean score in 2021 com­ pared to the score in 2017/2018 among Class VIII and X students (SC/ST/OBC and general category) in various subjects. For instance, in the Class X Science exam, the score of general category students dropped by 34 marks, while that of SC, ST and OBC students declined by 45, 48 and 40 marks, respectively. So, there will be a disproportionately greater impact on SC and ST students as their learning outcomes reduced the most while their promotion rates saw the highest degree of rise among all the communities.
Chart 4 shows the dropout rate of secondary school students across communities. Despite re­ ports such as a UNICEF poll and an Annual Status of Education Report (ASER) survey pointing out that dropout rates increased in India during the outbreak, UDISE+ data do not reflect this drop.
Table 5 shows the percentage of children not enrolled in school across age groups in 2018, 2020 and 2021, according to the ASER survey. ASER showed that except in the 15­16 age group, the share of children who were "not enrolled" in schools in 2020 and 2021 com­pared to 2018 increased in every other age group. However, the UDISE+ shows an increase in enrolment rate across all levels of education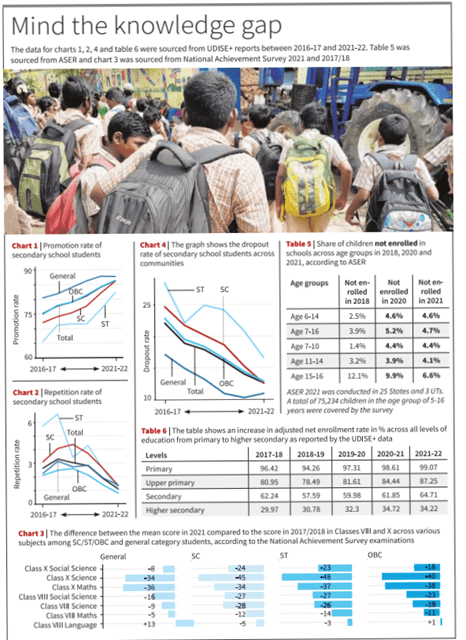 Development processes- Urbanization
Transport 4 All Challenge Stage-2
The Transport4All Challenge is an initiative of the Ministry of Housing and Urban Affairs, Government of India that aims at enhancing the mobility experience of citizens. The Challenge focuses on digital innovation and invites cities, citizens, and innovators to join hands to develop contextual digital solutions to improve formal as well as informal public transport to better serve the mobility needs of all citizens.
Three Stages of the Challenge
The Transport4All through Digital Innovation Challenge comprises three stages:
● Stage I PROBLEM IDENTIFICATION: Cities, with the support of NGOs, identify key recurring problems that citizens and public transport operators face
● Stage II SOLUTION GENERATION: Startups develop prototypes of solutions to improve public transport with inputs from cities and NGOs
● Stage III PILOT TESTING: Cities engage Startups for large-scale pilots and refine the solutions based on citizen feedback
Citizen Perception Survey 2022 (part of Ease of Living assessment)
MoHUA launched the Urban Outcomes Framework 2022 in April, 2022 as an initiative to undertake a transparent and comprehensive assessment of cities based on cross-city outcomes across major sectors. The Framework also includes the third round of Ease of Living Index. The Ease of Living Index, as a 360-degree assessment, aims to evaluate cities across India based on the Quality of Life, Economic Ability, and Sustainability.
GS 3
Shahtoosh
Shahtoosh is the fine undercoat fibre obtained from the Tibetan antelope, known locally as chiru, a species living mainly in the northern parts of the Changthang Plateau in Tibet. As they offer high levels of smoothness and warmth, Shahtoosh shawls is a highly expensive commodity.
Chiru (Tibetan Antelope)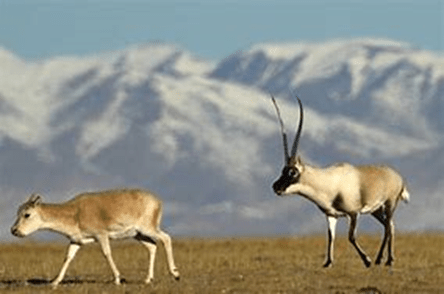 The Tibetan antelope is a rare bovid native to the Tibetan plateau. Its coat is pale fawn to reddish-brown, with a whitish belly, and is particularly thick and woolly. The face is almost black in color, with prominent nasal swellings that have a paler color in males. In general, the coloration of males becomes more intense during the annual rut, with the coat becoming much paler, almost white, contrasting with the darker patterns on the face and legs. The horns are slender, with ring-like ridges on their lower portions and smooth, pointed, tips.
Elderly
1.8 Crore voters in India are 80+ in age
Groundwater
Level of groundwater extraction lowest in 18 years, finds study
Total groundwater recharge was 437.6 billion cubic metres, as opposed to extraction of 239.16 BCM, reports Ministry of Water Resource
Assessment indicates increase in ground water recharge
Analysis indicates improvement in ground water conditions in 909 assessment units in the country compared with 2017 assessment data
Total annual ground water recharge for entire country is 437.60 billion cubic meters (BCM)
Annual ground water extraction for the entire country is 239.16 BCM
Out of total 7089 assessment units, 1006 units categorized as 'Over-exploited'
Such joint exercises between CGWB & States/UTs were carried out earlier in 1980, 1995, 2004, 2009, 2011, 2013, 2017 and 2020