CA 1 November 2022
Content  

Personalities in news Sardar Patel
International Relations Brazil
Constitutional Provisions Section 124 of IPC
Indian Economy Fiscal deficit
Agriculture GM Mustard
Editorial Analysis – The ambiguity of reservations for the poor: unconstitutional or not?    
GS 1
Personalities in news
Sardar Patel
Context-'Had Sardar Patel been the first PM, many problems wouldn't have arisen' – Home Minister
Sardar Vallabhbhai Patel was a senior leader of the Indian National Congress and a prominent figure in the Indian Freedom Struggle, who later became India's first Deputy Prime Minister and first Home Minister.
Sardar Vallabhbhai Patel's role in the Indian Freedom Movement
In the initial stages of the freedom movement, Patel was neither keen on active politics nor the principles of Mahatma Gandhi. However, the meeting with Mohandas Karamchand Gandhi in Godhra (1917) fundamentally changed Patel's life.
Patel joined the Congress and became the secretary of the Gujarat Sabha that became a Congress stronghold later.
On Gandhi's call, Patel quit his hard-earned job and joined the movement to fight for exemption of taxes in Kheda at the time of plague and famine (1918).
Patel joined Gandhi's Non-Cooperation Movement (1920) and travelled around West India to recruit 3,00,000 members. He also collected more than Rs 1.5 million for the party fund.
There was a British law banning the hoisting of the Indian Flag. When Mahatma Gandhi was imprisoned, it was Patel who led the Satyagraha movement in Nagpur in 1923 against British law.
It was the Bardoli Satyagraha of 1928 which earned Vallabhbhai Patel the title of 'Sardar' and made him popular throughout the country. So great was the impact that Pandit Motilal Nehru suggested Vallabhbhai's name to Gandhiji for the presidency of the Congress.
In 1930, the British arrested Sardar Patel during the Salt Satyagraha and put him on trial without witnesses.
On the outbreak of World War II (1939), Patel supported Nehru's decision to withdraw Congress from central and provincial legislatures.
Patel was at his persuasive best when he spoke at the Gwalia Tank ground (now called August Kranti Maidan) in Mumbai to launch the nationwide civil disobedience movement in 1942 at the behest of Mahatma Gandhi.
During Quit India Movement (1942), the British arrested Patel. He was imprisoned with the entire Congress Working Committee from 1942 to 1945 at the fort in Ahmednagar.
Sardar Vallabhbhai Patel as Congress President
After the signing of the Gandhi–Irwin Pact, Patel was elected president of Congress for its 1931 session (Karachi).
Congress committed itself to the defence of fundamental rights and civil liberties. Patel advocated for the establishment of a secular nation. Minimum wages for workers and the abolition of untouchability were among his other priorities.
Patel used his position as Congress president to organise the return of confiscated land to farmers in Gujarat.
Sardar Patel – The Social Reformer
Patel worked extensively against alcohol consumption, untouchability, caste discrimination and for women emancipation in Gujarat and outside.
Sardar Vallabhbhai Patel – As Deputy Prime Minister and Home Minister
After Independence, he became India's first Deputy Prime Minister. On the first anniversary of Independence, Patel was appointed as the Home Minister of India. He was also in charge of the States Department and the Information and Broadcasting Ministry
As the first Home Minister and Deputy Prime Minister of India, Patel organised relief efforts for refugees fleeing from Punjab and Delhi and worked to restore peace.
In what was to become Sardar Patel's most lasting legacy, he took charge of the States Department and was responsible for the accession of 565 princely states into the Union of India. Paying tribute to him, Nehru called Sardar 'the builder and consolidator of new India.'
However, the invaluable services of Sardar Patel were available to independent India for just 3 years. The brave son of India died on 15 December 1950 (aged 75), after suffering a massive heart attack.
Sardar Vallabhbhai Patel's role in the Integration of the princely states
Sardar Patel despite his failing health and age never lost sight of the larger purpose of creating United India. As India's first Home Minister and Deputy Prime Minister, Sardar Patel played a key role in the integration of about 565 princely states into the Indian Union.
Few princely states like Travancore, Hyderabad, Junagadh, Bhopal and Kashmir were averse to joining the state of India.
Sardar Patel worked tirelessly to build a consensus with the princely states but did not hesitate in employing methods of Sama, Dama, Dand and Bhed where ever necessary.
He had used force to annex princely states of Junagadh ruled by Nawab and Hyderabad ruled by Nizam, both of whom had wished not to merge their respective states with the Union of India.
Sardar Vallabhbhai Patel stitched the princely states along with British Indian territory and prevented the balkanization of India.
Sardar Vallabhbhai Patel as the first Prime Minister of India?
In the AICC Session of 15th January 1942 held at Wardha, Gandhiji formally designated Jawaharlal Nehru as his political successor. In Gandhiji's own words "… not Rajaji, not Sardar Vallabhabhai, but Jawaharlal will be my successor…When I am gone, he will speak my language".
Thus, it can be seen that it was none other than Gandhiji who wanted Nehru to lead India, apart from the masses. Patel always listened and obeyed Gandhi – who himself had no political ambitions in free India.
However, for the post of Congress Presidentship in 1946, Pradesh Congress Committees (PCCs) had a different choice – Patel. Even though Nehru had a great mass appeal, and a broader vision about the world, 12 out of 15 PCCs favoured Patel as Congress President. Patel's qualities – as a great executive, organizer and leader – were widely appreciated.
When Nehru came to know about the PCCs choice, he remained silent. Mahatma Gandhi felt that "Jawaharlal will not take second place", and he asked Patel to withdraw his nomination for Congress President. Patel, as always, obeyed Gandhi. Nehru took over as Congress President for a short period of time in 1946, before handing over the responsibility to J.B.Kriplani.
For Nehru, the Prime Ministership of Free India was just an extension of his role in the interim cabinet.
It was Jawaharlal Nehru who headed the interim government of India from 2nd September 1946 to 15th August 1947. Nehru was the Vice-President of the Viceroy's Executive Council with powers of the Prime Minister. Vallabhbhai Patel held the second-most powerful position in the Council, heading the Department of Home Affairs and Department of Information and Broadcasting.
On August 1, 1947, two weeks before India became independent, Nehru wrote to Patel a letter asking him to join the cabinet. Nehru, however, indicated that he already consider Patel as the strongest pillar of the Cabinet. Patel replied guaranteeing unquestioned loyalty and devotion. He had also mentioned that their combination is unbreakable and therein lies their strength.
Gandhi and Patel
Patel was always loyal to Gandhi. However, he differed with Gandhiji on certain issues.
Following Gandhiji's assassination, he said: "I claim to be nothing more than an obedient soldier of him like the millions who obeyed his call. There was a time when everyone used to call me his blind follower. But, both he and I knew that I followed him because our convictions tallied".
Was Patel against the partition of British India – into India and Pakistan?
Sardar in his early years opposed the partition of British India. However, he accepted the division of India by December 1946. Many including VP Menon and Abul Kalam Azad felt that Patel was more receptive to the idea of Partition than Nehru.
Abul Kalam Azad was a staunch critic of Partition right till the very end, however, that was not the case with Patel and Nehru. Azad in his memoir India wins Freedom says that he was 'surprised and pained when Sardar Vallabhbhai Patel in reply to why Partition was needed said that 'whether we liked it or not, there were two nations in India'.
Statue of Unity, a tribute to Sardar Vallabhbhai Patel?
Sardar Vallabhbhai Patel was an Indian National Congress leader – until his death. Many historians like Ramchandra Guha, thinks it is ironic that Patel is being claimed by the BJP when he "was himself a lifelong Congressman".
Congress leader Shashi Tharoor alleged that BJP was trying to 'hijack' the legacy of freedom fighters and national heroes like Patel as they have no leaders of their own in history to celebrate.
Many opposition leaders see vested interests in the right-wing party's effort to appropriate Patel and depict the Nehru family in a bad light.
Built at a cost of Rs. 2,989 crore, the statue depicts Sardar Vallabhbhai Patel, India's first Home Minister, wearing a traditional dhoti and shawl, towering over the Narmada River.
At 182-metre, the statue is touted as the world's tallest – it is 177 feet higher than China's Spring Temple Buddha, currently the world's tallest statue.
Iron was collected from all over the country for the statue of Sardar Vallabhbhai Patel, also known as the Iron Man of India.
GS 2
International Relations
Brazil
Context-Lula da Silva defeats Bolsonaro in Brazil presidential election
Brazil Map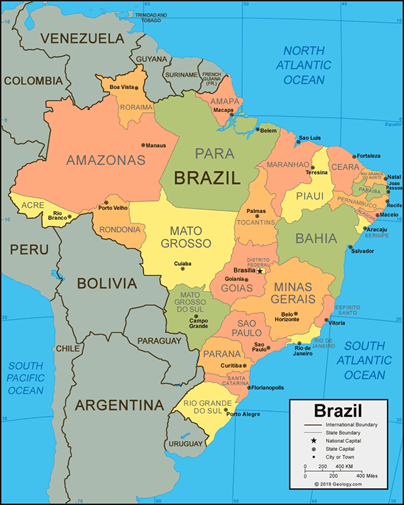 Neighbours- Clockwise
Uruguay
Argentina
Paraguay
Bolivia
Peru
Colombia
Venezuela
Guyana
Suriname
French Guyana
India-Brazil Relations
India and Brazil share close and multifaceted relationship at bilateral level as well as in plurilateral fora such as BRICS, BASIC, G-20, G-4, IBSA, International Solar Alliance, Bio-future Platform and in the larger multilateral bodies such as the UN, WTO, UNESCO and WIPO.
India and Brazil
Combined GDP is of around USD 4.5 trillion
Have a total population of 1.5 billion
The volume of bilateral trade in 2018-10 was USD 8.2 billion which included USD 3.8 billion worth of Indian exports to Brazil and USD 4.4 million as imports by India.
India and Brazil signed 15 agreements to cement cooperation in areas ranging from energy and trade and investment to cyber security and information technology
Trade & Commerce:
India and Brazil drew up an ambitious plan to boost their stuttering economies by significantly expanding cooperation in key sectors like oil, gas and mining, while setting a target of USD 15 billion in bilateral trade by 2022.
Energy Partnership
A separate pact was inked for cooperation in the field of oil and natural gas while another one was sealed in the bio-energy sector.
Agreed that there was a great potential for increased ethanol production and uptake in India's fuel mix and looked forward to further collaboration in the area – Brazil could also export ethanol to India in the interim to quicken its 10 per cent ethanol-blend programme. In exchange, Brazil is poised to help Indian farmers implement a more efficient ethanol programme that reduces reliance on subsidies and helps improve urban India's air quality.
Animal Husbandry:
Recognized the common genetic heritage in cattle in India and Brazil and agreed to collaborate in assisted reproductive technology that is expected to help increase dairy production in India.
Welcomed the decision to set up a Centre of Excellence in Cattle Genomics in India with Brazilian assistance
Mining sector: The two sides agreed that mining activities and investments offered a significant potential for enhancing bilateral cooperation in this sector.
Social Security Agreement: India and Brazil signed a social security agreement and hailed it as an important step to facilitate movement of professionals and business persons between India and Brazil.
Constitutional Provisions
Section 124 of IPC
Context -SC tells Centre not to file new sedition cases; govt. re-examining provisions
What does Section 124A of the IPC say?
The section deals with the offence of sedition, a term that covers speech or writing, or any form of visible representation, which brings the government into hatred or contempt, or excites disaffection towards the government, or attempts to do so.
It is punishable with three years in prison or a life term.
"Disaffection", it says, includes disloyalty and feelings of enmity.
However, it also says expressing disapproval of government measures or actions, with a view to getting them changed by lawful means, without promoting hatred or disaffection or contempt towards the government will not come under this section.
What is its origin?
Colonial past: Sedition was introduced in the penal code in 1870, a decade after the Indian Penal Code came into force.
It was a colonial law directed against strong criticism of the British administration.
Putting curb on Freedom fighters: Its most famous victims included Bal Gangadhar Tilak and Mahatma Gandhi.
Gandhiji called it "the prince among the political sections of the IPC designed to suppress the liberty of the citizen".
Is it constitutionally valid?
Violative of FRs: Two high courts had found it unconstitutional after Independence, as it violated the freedom of speech and expression.
Reasonable restrictions: The Constitution was amended to include 'public order' as one of the 'reasonable restrictions' on which free speech could be abridged by law.
Kedar Nath Case: Thereafter, the Supreme Court, in Kedar Nath Singh v. State of Bihar (1962) upheld its validity.
Why the controversy now?
Frequent use: In recent times, the resort to this section is seen as disturbingly frequent.
Curbing dissent: Activists, cartoonists and intellectuals have been arrested under this section, drawing criticism from liberals that it is being used to suppress dissent and silence critics.
Misuse for propaganda: Authorities and the police who invoke this section defend the measure as a necessary step to prevent public disorder and anti-national activities.
Irrelevance: Many of them have also been detained under the National Security Act and UAPA.
What is being debated about it?
Liberals and rights activists have been demanding the scrapping of Section 124A.
It is argued that the provision is "overbroad", i.e., it defines the offence in wide terms threatening the liberty of citizens.
The Law Commission has also called for a reconsideration of the section.
It has pointed that Britain abolished it more than a decade ago and raised the question of whether a provision introduced by the British to put down the freedom struggle should continue to be law in India.
Some argue that a presumption of constitutionality does not apply to pre-constitutional laws as those laws have been made by foreign legislature or bodies.
What has the apex court observed?
Justice D.Y. Chandrachud had flagged the indiscriminate use of the sedition law against people who aired their grievances about the government's COVID management.
People have been charged even for seeking help to gain medical access, equipment, drugs and oxygen cylinders, especially during the second wave of the pandemic.
Justice U.U. Lalit, in his recent judgment, quashed a sedition case against a person for his alleged remarks about the PM and the Union Government.
Way forward
The time is long past when the mere criticism of governments was sufficient to constitute sedition.
The right to utter honest and reasonable criticism is a source of strength to a community rather than a weakness, the CJI has recorded.
GS 3
Indian Economy
Fiscal deficit
Context-India H1 fiscal deficit touches ₹6.2 lakh cr., tax receipts rise
What is fiscal deficit?
It is the difference between the Revenue Receipts plus Non-debt Capital Receipts (NDCR) and the total expenditure.
In other words, fiscal deficit is "reflective of the total borrowing requirements of Government".
What is the significance of fiscal deficit?
In the economy, there is a limited pool of investible savings. These savings are used by financial institutions like banks to lend to private businesses (both big and small) and the governments (Centre and state).
If the fiscal deficit ratio is too high, it implies that there is a lesser amount of money left in the market for private entrepreneurs and businesses to borrow.
Lesser amount of this money, in turn, leads to higher rates of interest charged on such lending.
So, simply put, a higher fiscal deficit means higher borrowing by the government, which, in turn, mean higher interest rates in the economy.
A high fiscal deficit and higher interest rates would also mean that the efforts of the Reserve Bank of India to reduce interest rates are undone.
What is the acceptable level of fiscal deficit?
There is no set universal level of fiscal deficit that is considered good.
Typically, for a developing economy, where private enterprises may be weak and governments may be in a better state to invest, fiscal deficit could be higher than in a developed economy.
Here, governments also have to invest in both social and physical infrastructure upfront without having adequate avenues for raising revenues.
What should the ideal fiscal deficit look like?
In India, the FRBM Act suggests bringing the fiscal deficit down to about 3 percent of the GDP is the ideal target. Unfortunately, successive governments have not been able to achieve this target.
Agriculture
GM Mustard
Context-Scientists welcome clearance to GM mustard for farming
What are genetically modified organisms (GMO)
Changes in genetic material: GMOs can be defined as organisms (i.e., plants, animals or microorganisms) in which the genetic material (DNA) has been altered in a way that does not occur naturally by mating and/or natural recombination
Transfers of genes: It allows selected individual genes to be transferred from one organism into another, also between nonrelated species.
GM foods: Foods produced from or using GM organisms are often referred to as GM foods
GM Mustard: GM mustard crop was introduced, which was later withdrawn. There is a raging debate going on advantages and disadvantages of GMOs. For a long time, further study was requested by farmers, environmentalist on GMO crops.
Advantages of GM mustard?
Benefits to producers and consumers: GM foods are developed and marketed because there is some perceived advantage either to the producer or consumer of these foods. This is meant to translate into a product with a lower price, greater benefit (in terms of durability or nutritional value) or both. Initially GM seed developers wanted their products to be accepted by producers and have concentrated on innovations that bring direct benefit to farmers (and food industry generally)
Improves crop protection: One of the objectives for developing plants based on GM organisms is to improve crop protection.
Insect Resistance: Some GMO foods have been modified to make them more resistant to insects and other pests. This means the amount of pesticide chemicals used on the plants are reduced, so their exposure to dangerous pesticides is also reduced
Develops stronger Crop: Another benefit that GM technology is believed to bring about is that crops can be engineered to withstand weather extremes and fluctuations, this means that there will be good quality and sufficient yields even under a poor or severe weather condition
Provides Environment Protection: GM crops often requires less time, tools and chemicals, and may help with reducing greenhouse gas emissions, soil erosion and environmental pollution
More Nutritious Foods: According to the UN Food and Agricultural Organization (FAO), some GM foods have been engineered to become more nutritious in terms of vitamin or mineral content.
More economic benefits: Larger production leading to increased farm income, reduced poverty, low food prices and thus reduced hunger and malnutrition. Besides new food products are also included, diversifying food varieties
What is the risk associated with GMO?
Contamination of genes: GMOs contaminate forever. GMOs cross pollinate and their seeds can travel far and wide.
Irreversible changes in gene pool: It is impossible to fully clean up our contaminated gene pool.
More herbicides in our food: Genetic engineering allows plants to survive high doses of weed killers, resulting in higher herbicide residues in our food.
Super weeds and super bugs: GMO crops are creating 'super weeds' and 'super bugs,' which can only be killed with more toxic poisons.
Why there was necessity to grant approval for GM Mustard?
To meet our current challenges: Over-exploitation of natural resources (soil, water, biodiversity), declining factor productivity, urgency to achieve sustainable development goals, especially ending poverty and hunger, and addressing timely the adverse effects of climate change the best option is scientific innovations and their scaling.
The adoption of GM food crops is in our broader national interest: Genetically modified maize, soybean, cotton, tomato and canola are grown across the world and the area currently under GM crops is about 200 m ha. Besides India, these have been grown for many years in the US, Brazil, Argentina, Canada, Australia, Philippines, Pakistan, Bangladesh, and China.
To meet the existing deficit in edible oils: India is currently importing around 13 million tonnes at a cost of Rs 1.17 lakh crore to the exchequer. Interestingly, of this, 2.0-2.5 mt soybean oil and 1.0-1.5 mt canola oil is already GM. Hence, we are consuming GM oil already, besides, the 1.5 mt of GM cotton oil produced domestically.
Associated health benefits: It is scientifically proven that the consumption of refined oil does not allow any protein to enter the human system. Thus, the consumption of GM oil is completely safe from a health point of view.
High yields to farmers: A major concern of our farmers is that yields of mustard are low and have stagnated for a long time at around 1,260 kg/ha, much lower than the global average of 2,000 kg/ha.
What else needs to be done?
Providing enabling environment: The Department of Agriculture (DoA) and ICAR need to move forward fast and provide an enabling environment to test the available seed of Hybrid DMH 11 in the current rabi season.
Encourage public-private partnership: This needs to happen on several farmers' fields in the mustard belt. It must also encourage public-private partnerships to produce quality seeds to cover more area next year.
Encouraging further innovation: Also, scientists at ICAR institutes must be encouraged to develop new GM Mustard hybrids on a mission mode. Allowing the production of GM Soybean and GM Maize going forward will also be a positive step, increasing both the productivity and profitability of these crops and doubling farmers' income.
Editorial Analysis
Vulnerable Sections
The ambiguity of reservations for the poor: unconstitutional or not?
Special measures provided by the 103rd Constitution Amendment Act
Article 15 stands amended enabling the state to take special measures (not limited to reservations) in favour of EWS generally with an explicit sub-article on admissions to educational institutions with maximum 10% reservations.
The amendment to Article 16 allows 10% reservations (and not special measures) for EWS in public employment and does so in a manner that is different from reservations for Scheduled Caste/Scheduled Tribes and Other Backward Classes.
Indra Sawhney Case
To start the constitutional examination of the recent amendment let us take the Supreme Court's view on reservations based purely on economic criteria.
Eight of the nine judges in Indra Sawhney (November 1992) held that the Narasimha Rao government's executive order (and not a constitutional amendment) providing for 10% reservations based purely on economic criteria was unconstitutional.
Their reasons included the position that income/property holdings cannot be the basis for exclusion from government jobs, and that the Constitution was primarily concerned with addressing social backwardness.
103rdAmendment will be tested against the Basic structure doctrine
However, the decision in Indra Sawhney involved testing an executive order against existing constitutional provisions.
In the current situation, we are concerned with a constitutional amendment brought into force using the constituent power of Parliament.
The fact that we are not concerned with legislative or executive power means that the amendment will be tested against the 'basic structure' and not the constitutional provisions existing before the amendment.
The pointed question is whether measures based purely on economic criteria violate the 'basic structure' of the Constitution?
Experts believe, it is a sufficient answer to say that 'backwardness' in the Constitution can only mean 'social and educational backwardness'.
It is difficult to see an argument that measures purely on economic criteria are per se violative of the 'basic structure'.
Challenges to the amendment
A challenge to the amendment may lie in the context of Article 16 by virtue of shifting the manner in which reservations can be provided in public employment.
Under Article 16(4), reservations for backward classes (SC/STs, OBCs) are dependent on beneficiary groups not being 'adequately represented' but that has been omitted in the newly inserted Article 16(6) for EWS.
The amendment through Article 16(6) ends up making it easier for the state to provide reservations in public employment for EWS than the requirements to provide reservations for 'backward classes' under Article 16(4).
Supreme Court might have its own views on this. On the one hand, it is confronted with the reality that 'backward classes' like SC/STs and OBCs are disadvantaged along multiple axes.
On the other, it is now far more difficult for the state to provide reservations to these groups compared to the EWS.
Breaching the 50% ceiling
In many of the responses to the amendment, breaching the 50% ceiling on reservations has been cited as its greatest weakness.
It is hard to see the merit of that argument because the amendment by itself does not push the reservations beyond 50%.
While it might be a ground to challenge the subsequent legislative/executive actions, the amendment itself is secure from this challenge.
Reservations are not an 'exception' but a 'facet' of equality
While committing to the constitutional position that reservations are not an 'exception' but a 'facet' of equality, the majority in Indra Sawhney also invokes the idea of balancing the equality of opportunity of backward classes 'against' the right to equality of everyone else.
When governments implement the EWS reservations and push quotas beyond 50%, the Supreme Court will be forced to confront this normative tension.
If reservations further equality, what then are the justifications to limit it to 50% when the identified beneficiaries constitute significantly more than 50%?
The answer to that question might lie in Indra Sawhney's position that the constitutional imagination is not one of 'proportional representation' but one of 'adequate representation'.
Way Forward
Hardest test will be its implementation
While the constitutional amendment by itself might survive the 'basic structure' test, the hardest test for governments will be the manner in which they give effect to the amendment.
The definition of 'economically weaker sections' will be a major hurdle because the political temptation will be to go as broad as possible and include large sections of citizens.
But broaden the definition, greater will be the constitutional risk. For example, if beneficiaries are defined as all those with family income of less than ₹8 lakh per annum, it must necessarily fail constitutional scrutiny.