P-IAS NEWS 7 October 2022
Content
Hampi
The UN Human Rights Council
Ayushman Bharat Scheme
Moonlighting
Purchasing Managers' Index (PMI)
LCH 'Prachand'
Vyommitra
Great Indian Bustard
Hampi
Context- Govt officials flout rules at Unesco site
About Hampi: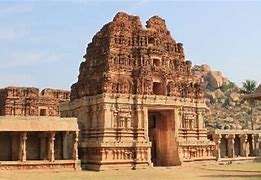 It is a UNESCO world heritage site.
It was a part of the Mauryan Empire back in the third century BC.
Hampi was the capital city during the four different dynasties altogether in the Vijayanagar city that came into existence in the year 1336 AD.
The Vijayanagara Empire reached unfathomable heights under the guidance of King Krishnadeva Raya of the Tuluva Dynasty.
'Kishkindha Kaand' in Ramayana has special significance concerning Hampi.
It is located near the Tungabhadra river.
By 1500 CE, Hampi-Vijayanagara was the world's second-largest medieval-era city after Beijing, and probably India's richest at that time, attracting traders from Persia and Portugal.
It has been described by UNESCO as an "austere, grandiose site" of more than 1,600 surviving remains of the last great Hindu kingdom in South India.
International Organizations
The UN Human Rights Council
Context-UN Council rejects debate on Xinjiang
About UNHRC:
UNHRC was reconstituted from its predecessor organisation, the UN Commission on Human Rights to help overcome the "credibility deficit" of the previous organisation.
Headquartered in Geneva, Switzerland.
Composition:
The UNHRC has 47 members serving at any time with elections held to fill up seats every year, based on allocations to regions across the world to ensure geographical representation.
Each elected member serves for a term of three years.
Countries are disallowed from occupying a seat for more than two consecutive terms.
Functions:
The UNHRC passes non-binding resolutions on human rights issues through a periodic review of all 193 UN member states called the Universal Periodic Review (UPR).
It oversees expert investigation of violations in specific countries (Special Procedures).
Challenges and Need for reforms:
The human rights record of the member-states such as Saudi Arabia, China and Russia in the council has also not been in line with the aims and mission of the UNHRC, which has led to critics questioning its relevance.
Despite the continued participation of several western countries in the UNHRC, they continue to harbour misgivings on the understanding of Human rights.
Non-compliance has been a serious issue with respect to the UNHRC's functioning.
Non-participation of powerful nations such as the US.
Ayushman Bharat Scheme
Context-The Prime Minister, Shri Narendra Modi has shared a citizen's response to Ayushman Bharat Scheme highlighting the health insurance cover of Rs 5 lakhs for all Indian citizens. The Prime Minister remarked that the benefits of the scheme can be availed all over India.
About Ayushman Bharat Scheme
which cover over 10 crore poor and vulnerable families (approximately 50 crore beneficiaries) providing coverage upto 5 lakh rupees per family per year for secondary and tertiary care hospitalization. Ayushman Bharat – National Health Protection Mission subsumedcentrally sponsored schemes – Rashtriya Swasthya Bima Yojana (RSBY) and the Senior Citizen Health Insurance Scheme (SCHIS).
features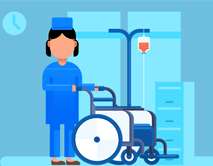 Ayushman Bharat – National Health Protection Mission will have a defined benefit cover of Rs. 5 lakh per family per year.
Benefits of the scheme are portable across the country and a beneficiary covered under the scheme will be allowed to take cashless benefits from any public/private empanelled hospitals across the country.
Ayushman Bharat – National Health Protection Mission will be an entitlement based scheme with entitlement decided on the basis of deprivation criteria in the SECC database.
The beneficiaries can avail benefits in both public and empanelled private facilities.
To control costs, the payments for treatment will be done on package rate (to be defined by the Government in advance) basis.
One of the core principles of Ayushman Bharat – National Health Protection Mission is to co-operative federalism and flexibility to states.
For giving policy directions and fostering coordination between Centre and States, it is proposed to set up Ayushman Bharat National Health Protection Mission Council (AB-NHPMC) at apex level Chaired by Union Health and Family Welfare Minister.
States would need to have State Health Agency (SHA) to implement the scheme.
To ensure that the funds reach SHA on time, the transfer of funds from Central Government through Ayushman Bharat – National Health Protection Mission to State Health Agencies may be done through an escrow account directly.
In partnership with NITI Aayog, a robust, modular, scalable and interoperable IT platform will be made operational which will entail a paperless, cashless transaction.
What is moonlighting and how is it affecting the companies in India? Is it a punishable offence under the law? How has the work from ­home culture affected the gig economy of our country?
Moonlighting is a state where employees work for remuneration with entities other than their employers. It is not defined in any of the statutes in India. However, there are enactments that deal with double employment.
Moonlighting is not defined in any of the statutes in India
Section 60 of the Factories Act deals with restriction on double employment stating that "No adult worker shall be required or allowed to work in any factory on any day on which he has already been working in any other factory, save in such circumstances as may be prescribed". However, this enactment is applicable only to employees working in factories.
Moonlighting is subject to law of the land. The sphere of employment cannot be extended by the employer beyond working hours and outside his place of employment.
The Courts of law in India dealing with employment are Writ Courts and Labour Courts, which exercise jurisdiction based on equity or fairness. Therefore, the Courts may lean in favour of the employee unless the contravention of the employee has led to serious prejudice and loss to the employer
---
Purchasing Managers' Index (PMI)
PMI is an indicator of business activity — both in the manufacturing and services sectors.
It is a survey-based measure that asks the respondents about changes in their perception of some key business variables from the month before.
It is calculated separately for the manufacturing and services sectors and then a composite index is constructed.
The PMI is compiled by IHS Markit based on responses to questionnaires sent to purchasing managers in a panel of around 400 manufacturers.
The PMI is usually released at the start of the month, much before most of the official data on industrial output, manufacturing and GDP growth becomes available.
It is, therefore, considered a good leading indicator of economic activity.
Economists consider the manufacturing growth measured by the PMI as a good indicator of industrial output, for which official statistics are released later.
Central banks of many countries also use the index to help make decisions on interest rates.
Defence, Internal security
The Indian ­made LCH 'Prachand' and its significance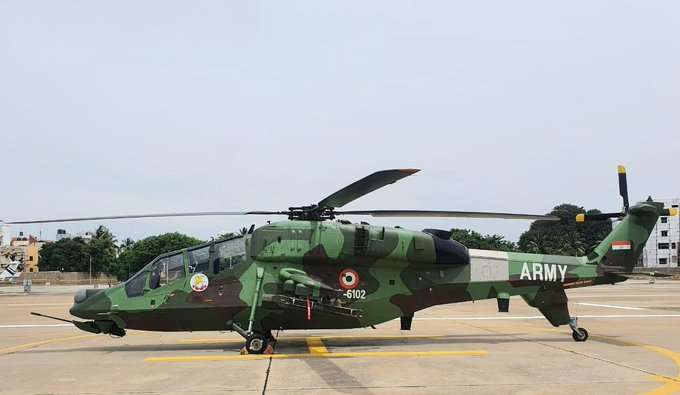 The Indian Air Force (IAF) formally inducted the first batch of indigenously developed light combat helicopters (LCH), named Prachand, in Jodhpur, Rajasthan, in the presence of Defence Minister Rajnath Singh on Monday.It is the only assault helicopter capable of operating in Siachen, the world's highest battlefield, and can fire a range of missiles and armaments.
Prachand LCHs have been developed by Hindustan Aeronautics Limited (HAL) under the government's "Make in India" initiative.
Significance
Prachand is the world's only assault helicopter capable of landing and taking off at an altitude of 5,000 meter.
Notably, the Kargil War highlighted the need for combat helicopters that could operate at high altitudes and carry sufficient weapons, and Prachand fulfills these requirements.
Design, features
Prachand has highly crash-proof body
As per HAL, Prachand has a maximum take-off weight of 5.8 tons, a maximum speed of 268km/h, and a range of 550km.It has an endurance of more than three hours and a service ceiling—the maximum density altitude at which the chopper can fly—of 6.5km.The helicopter features a highly crash-proof frame and landing gear and uses radar-absorbing material to minimize radar signature.
Performance
All-weather combat, night attack capabilities
According to the Ministry of Defence, Prachand is propelled by two HAL-manufactured Shakti engines that were co-developed with France's Safran.The LCH's top features are its ability to fight in all weather conditions, solid performance at high altitudes, agility, maneuverability, and extended range.The helicopters also have the capability to launch night attacks and have crash-worthy landing gear, the ministry added.
Expert speaks
'Highly advanced version of ALH Dhruv'
"The LCH's indigenous design allows it to operate at both sea level and at mountains.""No helicopter in its class can do this. It's an Indian design fit for the world,"
Achievements of Indians in Science and Technology
Vyommitra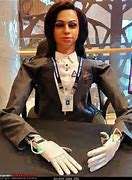 She is half-humanoid and her body stops at the torso and has no legs. She is capable of switching panel operations, performing Environment Control and Life Support Systems (ECLSS) functions, conversations with the astronauts, recognising them and solving their queries.


The humanoid can detect and give out warnings if the environment changes within the cabin.
She will simulate the human functions required for space before real astronauts take off before August 2022. She will be sent in a space capsule around the end of 2020 or early 2021 to study how astronauts respond to living outside earth in controlled zero-gravity conditions.
The humanoid has been developed by the ISRO Inertial Systems Unit, Thiruvananthapuram.
Great Indian Bustard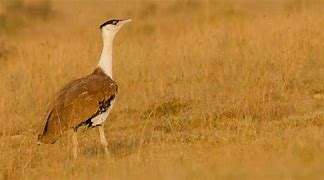 It is the State bird of Rajasthan and is considered India's most critically endangered bird.
It is considered the flagship grassland species, representing the health of the grassland ecology.
Its population is confined mostly to Rajasthan and Gujarat. Small populations occur in Maharashtra, Karnataka and Andhra Pradesh.
The bird is under constant threats due to collision/electrocution with power transmission lines, hunting (still prevalent in Pakistan), habitat loss and alteration as a result of widespread agricultural expansion, etc.
Protection Status:
International Union for Conservation of Nature Red List: Critically Endangered
Convention on International Trade in Endangered Species of Wild Fauna and Flora (CITES): Appendix 1
Convention on Migratory Species (CMS): Appendix I
Wildlife (Protection) Act, 1972: Schedule 1
Measures taken to protect GIB:
Species Recovery Programme:

It is kept under the species recovery programme under the Integrated Development of Wildlife Habitats of the Ministry of Environment, Forests and Climate Change (MoEFCC).

National Bustard Recovery Plans:

It is currently being implemented by conservation agencies.

Conservation Breeding Facility:

MoEF&CC, Rajasthan government and Wildlife Institute of India (WII) have also established a conservation breeding facility in Desert National Park at Jaisalmer in June 2019.
The objective of the programme is to build up a captive population of Great Indian Bustards and to release the chicks in the wild for increasing the population.

Project Great Indian Bustard:

It has been launched by the Rajasthan government with an aim of constructing breeding enclosures for the species and developing infrastructure to reduce human pressure on its habitats.

Eco-Friendly Measures:

Task Force for suggesting eco-friendly measures to mitigate impacts of power transmission lines and other power transmission infrastructures on wildlife including the Great Indian Bustard.
---