19 November 2022
Content  
National Commission for women
India and Family planning
The International Conference on Family Planning (ICFP)
Tribal affairs
1 Million For 1 Billion (1M1B)
National Commission for women
Context-Girls being forced into prostitution in Rajasthan, says NCW
The commission had taken cognisance of a media report that in Bhilwara, conflicts over loan repayments were resolved by auctioning off young women on stamp papers.
The NCW report said that a visit to the communities provides further evidence that child marriages are still common in the State.
It was observed that every family had six to nine minor girls living under one roof and these girls were unable to tell their relationship with others in the family. In order to establish the relationship, DNA tests on young girls and their respective families must be performed.
India and Family planning
Context -India wins Excellence in Leadership in Family Planning (EXCELL) Awards-2022 at International Conference on Family Planning
India the only country to have received the award in 'country' category
The award recognizes and applauds India's achievements in ensuring increased access and adoption of modern contraceptive methods and significantly reducing unmet needs for family planning.
The International Conference on Family Planning (ICFP)
The International Conference on Family Planning (ICFP) has served as a strategic inflection point for the global reproductive health community, providing a global stage for more than 120 countries worldwide, organizations, and individuals to make important commitments and celebrate achievements as the world's largest scientific conclave on family planning and reproductive health. The event was attended by more than 3500 delegates physically and tens of thousands on the virtual platform.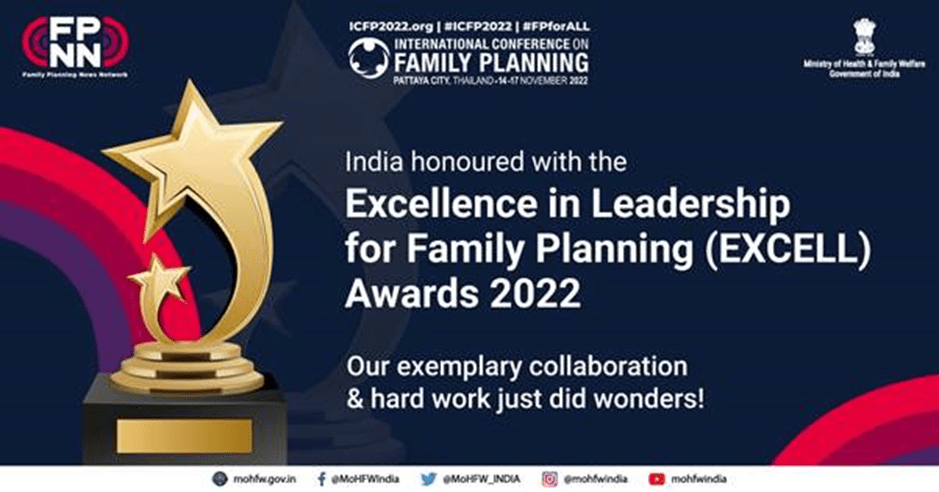 National Family Health Survey (NFHS) – 5 data
India has made outstanding progress not only in improving access but also adoption of modern contraceptive methods enabling couples to make informed choices about family planning. These are reflected in the National Family Health Survey (NFHS) – 5 data.
As per NFHS-5 data,
overall Contraceptive Prevalence Rate (CPR) has increased substantially from 54 percent to 67 percent in the country, from NFHS-4.
Unmet needs of family planning have witnessed a significant decline from 13 per cent to 9 per cent. The unmet need for spacing has also come down to less than 10 per cent.
The total 'demand satisfied' for family planning among currently married women aged 15-49 in India increased from 66 percent in 2015-16 to 76 percent in 2019-21 which has already crossed the SDG target of 75 set globally for 2030.
The government's focus on improving easy and affordable access to modern contraceptives are reflected in the fact that 68% modern method contraceptive users obtain their method from the public health sector, as per NFHS-5 data.
Mission Parivar Vikas, one of the government's flagship programmes, to reduce unmet needs in family planning, has also been a critical factor in the overall improvement.
India's efforts in improving family planning demonstrate the progress the country is making towards achieving the SDG targets on women and maternal health.
Tribal affairs
Context-National Education Society for Tribal Students (NESTS) and 1M1B Foundation signed MoU to train teachers and students of EMRSs
Objectives
The programme objectives include conduct of training and capacity-building programs for teachers and students of Eklavya Model Residential Schools (EMRSs). In pilot phase, as part of MoU,programmeis being implemented in EMRSs of 2 states, namely Rajasthan and Uttarakhand.
Features
The program will capacitate the teachers & students with Augmented Reality (AR) and Virtual Reality (VR) skills using the AR-VR skills curriculum launched by CBSE.
to engage students of EMRSs in nation-building by enabling teachers and students to understand the world of possibilities offered by emerging technologies and become creators using Augmented reality (AR) and Virtual Reality (VR) to build India's Metaverse
Significance
In congruence with NEP 2020, it is believed that this collaboration will go a long way in providing students of EMRSs an exposure to immersive, visual, and experiential learning that shall enhance human infrastructure resource for the nation.
1 Million For 1 Billion (1M1B)
1 Million For 1 Billion (1M1B), is a USA based Not for Profit Company accredited to United Nations Organization with special consultative status to the UN Economic and Social Council (ECOSOC) and is associated with the United Nations Department of Global Communications and also is a registered credible organization with NGO Darpan Portal of NITI Aayog.
It is a social innovation and future skills initiative aligned to the United Nations Sustainable Development Goals (SDGs).
Data Point
As of December 31, 2021, the National Crime Records Bureau has reported that there were 1,319 prisons in the country